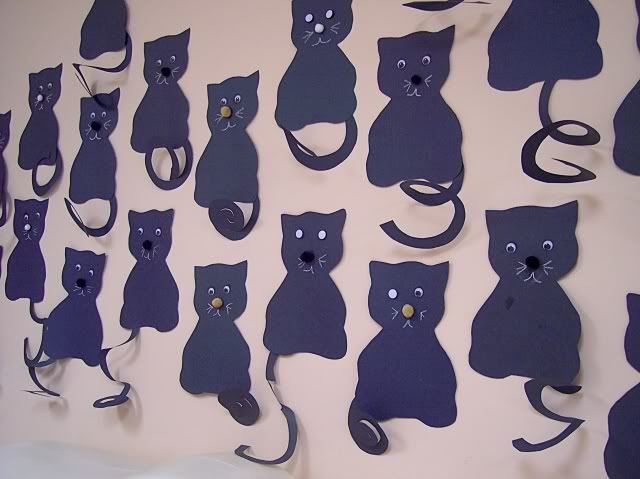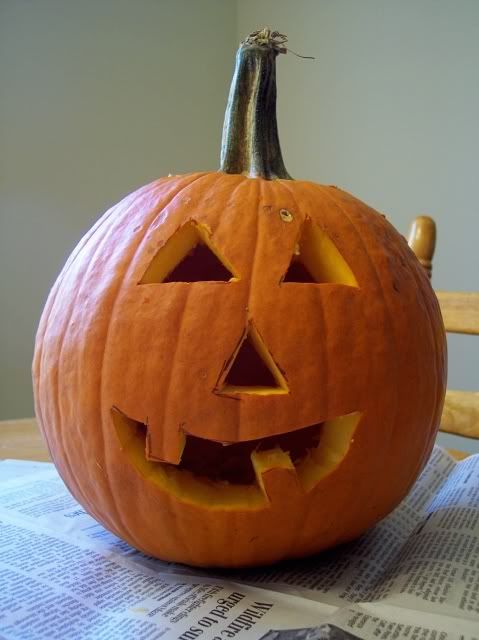 Whew! I don't think I've ever had such an exhausting and busy
Halloween
. It was lots of fun, though!! Dylan was a
lion...again
. I just couldn't find a costume I liked this year and the one from last year fit just fine so we went with it. This year he refused to wear the headpiece so it was kinda hard to tell he was a lion. He was still
cute
, though!
I bought a
pumpkin
last week to carve. I hoped that Dylan would get in on the action but he was perfectly happy supervising from his chair.
He had his first ever Halloween
party
at school and it was fun to watch him interact with the other kids in his class. Man, I didn't realize how much he eats! When all the other kids were done eating and running around the room he was still sitting there chomping down on
cheese puffs
. We have our priorities! BTW, the I've posted a pic of some of their cats they've made at school. Too cute! For their pary, they all made
t-shirts
and they were so cute!! We used their arm and handprints to make the
trunk
and then we stamped
leaves
, painted
grass
, and wrote their names and the date. Such a cute idea! After the party, we went over the house of one of Dylan's friends from school. They have the best back yard for playing! Dylan and his little friend played for almost two hours and had a great time. I had a great time chatting with his friend's mom! Thanks, Lelia!!!
We had disussed taking him to trick or treat but ended up going to a Fall Festival at a local church. They didn't have a whole lot of activities for kids his age but they did have
Trunk or Treat
. It was so funny to watch him get candy. First, he didn't want to go up and ask for it - he expected them to bring the candy to him. Second, once he got the candy, he wanted to eat it right then instead of putting it in his
"pumpkin bag."
I think towards the end of the evening he finally got the hang of it, though.
On a crafty note, I've posted a pic of a little candy bucket I did for his teachers at school. These
wonderful women
spend their days with 14 two-year-olds. Need I say more?
I hope you all had a
great Halloween
as well!